St. Gerosa High School
Mangalore
GALLERY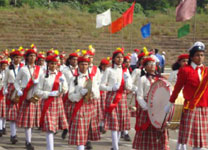 Cleanliness
Pupils must come to school in neat and well dressed school uniform.
It is the bounden duty if all the students to keep their class rooms and other places in and around school clean and in order. They should cultivate the habit of using the dustbin.
No pupil is allowed to write on the black board unless asked to do so by the teacher.
Before leaving the classroom,students will pick up waste papers and any unwanted materials from the floor and place them in the waste paper basket,will leave class room furniture in proper arrangement,will put off lights and fans, will close windows and doors,in general the room will be left in a condition to be used again for next day.